Enter for a chance to win a pair of tickets to see this show at the Spruce Peak Performing Arts Center by sending an email to hannah@stowereporter.com. 
Include your name, phone number and email address. 
The winner will be chosen Friday, March 3 at noon. Good luck!
A Jazz Evening with Audrey Bernstein 
Saturday, March 4, 7:30 pm 
Known for her wonderful phrasing, clear voice (hints of Julie London, Anita O'Day, and Nora Jones), exceptional musicality, and her beguiling stage presence, Audrey Bernstein is a natural entertainer, with the ability to captivate and inspire her audiences with her warm voice, charm, and delicate mastery of tone." Described as "classic" and "endearingly sexy", with "the chops to deliver an emotional wallop", 
Bernstein is spontaneous, nuanced, and swings like crazy. 
Accompanied by Tom Cleary, John Rivers, Geza Carr, and special guest Patricia Julien 
Introduction by VPR's Host of Friday Night Jazz, Reuben Jackson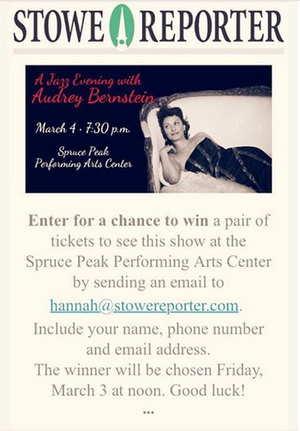 hanna@stowereporter.com
"Audrey's joyful and silky voice is amazing" – James Valentine, Maroon 5