Audrey Bernstein Interviews Lynn Noble, MT-BC 
Lynn Noble is a Music Therapist and Yoga Instructor in Northern Vermont. She is a student of Audrey Bernstein Vocal Studios.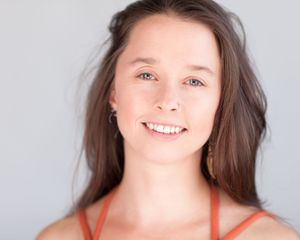 AB: Hello Lynn! I love learning about my students and what brought them to vocal lessons. Your work is fascinating to me, and I'd love to share what you do with the Vermont community. Please tell us a bit about yourself, what you do, and how you ended up in Vermont. 
LN: Thanks, Audrey! Well, my husband and I recently moved back to Vermont after years living in San Francisco, CA. We met in Middlebury VT over 10 years ago, and our families are from the East Coast. We have always loved Vermont and knew we would make it back eventually. My private healing practice, Sound Roots, mindfully offers Music Therapy, Yoga, and Sound Healing to clients in Northern Vermont. I also love cooking, hiking, community, and singing jazz! 
AB: Singing Jazz... YAY! Can you tell me more about your music therapy work? 
LN: Absolutely! I am passionate about the practice and also about education and advocacy for my field. Music therapy is a clinical and evidence-based health profession that uses music as a therapeutic tool to support a variety of populations in achieving individualized goals through a relationship with a credentialed professional. The therapist must employ skill and knowledge of diagnoses in addition to tested theories of practice in music and therapy techniques. 
AB: Excellent - and all with music? 
LN: Yes! All of our interventions use music in some form, whether it be interactive music making, receptive listening and relaxation, movement with music, lyric discussion, or a host of other musical manifestations. We use scientific research to inform clinical decision-making, and keep up with new evidence as it is published to determine the appropriate musical intervention. 
AB: Who do music therapists usually work with? And what kinds of things can you treat when working with your clients? 
LN: We work with clients of all ages and abilities. Some populations that I have worked with include individuals experiencing mental health needs, developmental disabilities, neurological disorders, physical difficulties, dementia, and those enrolled in early intervention programs, as well as palliative and hospice care. Music therapists also work in the Neonatal Intensive Care Unit, various hospital programs, schools, and community centers, just to name a few. Our practice is client-centered, which means that we are there to support whatever goals the individual is working towards. We often support goals that are being jointly targeted by other interdisciplinary health care providers, and also use assessments and interviews to determine appropriate objectives. Some goals may include managing stress, relaxation, decreasing perception of pain, enhancing emotional expression and processing, supporting communication, promoting physical rehabilitation, enhancing social skills, assisting coping mechanisms, and improving quality of life. 
AB: Wow, that's inspiring! How did you learn to do all of this? Do you have a primary performance instrument? 
LN: Becoming a Music Therapist is a rigorous training process. We are required to complete course work in music, psychology, and music therapy, as well as a 1200 hour clinical internship. Following this, we are certified through a National Board Examination and receive the credential Music Therapist - Board Certified (MT-BC). As music therapists, we are required to be proficient on guitar, piano, and percussion, but my primary instrument is voice! 
AB: Ah-ha! That brings us to vocal coaching - can you talk about why you started taking voice lessons with me, and how it has affected you? 
LN: In both my music therapy and yoga practice, voice is one of the most important tools that I have. Using breath support, articulation, projection, and vocal care are integral to my profession. I sought out vocal coaching as a self-care tactic; to make sure that I am remembering to properly care for my voice, and to continue to build confidence. I would also love to get back in to performing jazz. These lessons have reawakened techniques that I had learned years ago. I am now back to fully warming up before sessions, and have really noticed that my voice is not as fatigued after a day of singing for hours on end. I have felt a general ease in my clinical improvisation, and noticed that my breath is even more fluid in my yoga practice. It is a great reminder to always keep practicing. It also helps me to build skills and and learn new ways to share breath support and warm-up exercises with my clients! 
AB: It's great to hear that vocal coaching can be applied in such a unique and helpful way. I love it! One more question: Can you define your mission for us, and share where we can find you? 
LN: Sound Roots exists to share the power of music in support of individual and community health and wellness. Fusing art and science, I hope to kindle expression, relaxation, cognition, communication, movement, social skill, coping, self-regulation, awareness, and insight. I aspire to meet the needs of our community, and to integrate the modalities of Music Therapy and yoga technique so that we may all find our voices and thrive. You can contact me through my website. Please reach out with any questions! 
______________________________________ 
You can learn more about Lynn and her offerings at: 
www.soundrootshealing.com 
soundrootshealing@gmail.com

And more about Audrey Bernstein at:  
www.audreybernsteinjazz.com